CDFA Secretary Karen Ross to Keynote at the2024 Unified Symposium's Opening Day Luncheon
October 23 2023
Category: Press Releases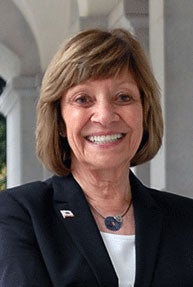 SACRAMENTO, Calif., October 23, 2023 – Karen Ross, secretary of the California Department of Food and Agriculture (CDFA), opens the 2024 Unified Wine & Grape Symposium with her keynote luncheon address on Tuesday, January 23. The luncheon begins at 11:30 a.m. at the Sheraton Grand Sacramento Hotel where Secretary Ross will focus on exploring climate-smart agriculture, automation, biological solutions and energy challenges in the context of California's agricultural and winegrape landscape.
Originally appointed by Governor Edmund G. Brown Jr. in 2011, Secretary Ross was reappointed by Governor Gavin Newsom in 2019. She has extensive leadership experience in agriculture, including environmental stewardship and climate adaptation. Prior to joining CDFA, Secretary Ross was chief of staff for U.S. Agriculture Secretary Tom Vilsack as well as president of the California Association of Winegrape Growers (CAWG) and vice president of the Agricultural Council of California. As CAWG's president, she championed the unification of the grape and wine industry and was fundamental in expanding the Unified Wine & Grape Symposium.
"As the Unified Symposium celebrates its 30th anniversary, it feels especially fitting to welcome back former CAWG President Karen Ross," said current CAWG President Natalie Collins. "Secretary Ross possesses unique understanding of the interconnected issues and challenges confronting the wine and grape industry and continues to be a strong voice for our community."
"Climate change is on all of our minds at CDFA, as well as for many winegrape growers and professionals," Secretary Ross said. "The Unified is the perfect place to explore ideas that benefit us all. In my expanded role in California, I am eager to come back to Unified and discuss sustainable solutions that empower growers, winemakers and industry professionals with information and tools to help their businesses thrive for generations to come."
Registration for the Unified Wine & Grape Symposium is available online at www.unifiedsymposium.org/register. The Keynote Luncheon is priced separately from general registration and includes a plated lunch and wine. Early registration is encouraged as limited seating is available. The 2024 Unified Wine & Grape Symposium will be held January 23-25, with exhibits open on January 24 and 25, at the SAFE Credit Union Convention Center, 1401 K St., Sacramento, California.
Built with the joint input of growers, vintners, and allied industry members, Unified has served as a clearinghouse of information important to wine and grape industry professionals for 30 years. Unified also hosts the industry's largest trade show of its kind, with more than 650 vendors displaying their products and services in over 875 booths. For more information, please visit www.unifiedsymposium.org.
Share: