Countdown to the 2024 Unified Wine & Grape Symposium: Registration and Housing Opens October 17
October 12 2023
Category: Press Releases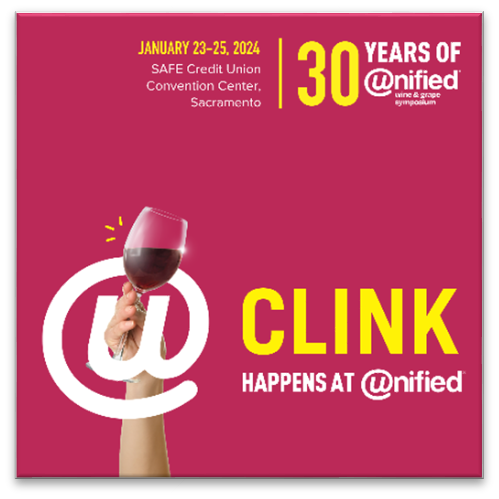 SACRAMENTO, Calif., October 12, 2023…Celebrating its 30th anniversary, the Unified Wine & Grape Symposium will open its registration and housing on Tuesday, October 17, at 9 a.m. PDT.
Hosted by the American Society for Enology and Viticulture (ASEV) and the California Association of Winegrape Growers (CAWG), the event will take place at the SAFE Credit Union Convention Center from January 23-25, 2024, in the heart of downtown Sacramento.
This year's program includes relevant sessions designed to keep the grape and wine industry updated on the latest innovations, emerging trends, and best practices needed for future planning and important business decisions. With a diverse range of sessions covering topics such as artificial intelligence, regenerative agriculture, growing in extreme weather, and more, there's a session for every interest in this year's program.
Other event highlights include:
For a comprehensive list and breakdown of sessions, visit the 2024 Symposium Schedule page. Don't miss out on the opportunity to visit over 650 exhibitors and discover the latest in vineyard and winery technology and equipment during the two-day trade show on Wednesday, January 24, and Thursday, January 25.
Built with the collective input of growers, vintners and allied industry members, the Unified Symposium has served as a clearinghouse of information important to wine and grape industry professionals for 30 years. The Unified Symposiumalso hosts the industry's largest trade show in America. For more information and to register, visit www.unifiedsymposium.org.
Share: